Commissioned by NBA Commissioner  David Stern,  Bob Brand and I conceived a way for the NBA to engage its teen age fans in their mid-80s idiom, the music video.
Irving Azoff,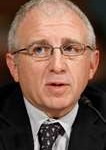 then president of MCA Records, now Executive Chairman of Live Nation Entertainment, agreed to provide 85% of the funding for the unprecedented collaboration, featuring their hot new group sensation, The New Edition.
Stern, who had signed off on the concept for the NBA and agreed to pick up the 15% balance if we found the partner and the appropriate talent then ensured our access to an NBA arena, in-game and post game, and paved the way to CBS Sports who produced a "making of the video" for halftime of one of its NBA finals telecasts.
From an organization point-of-view, this is a good example of how imaginative league leadership, an individual franchise owner (in this case, Dr. Jerry Buss), an entertainment industry partner and a firm like ours playing a producer/director/creator role can can introduce successful innovation.