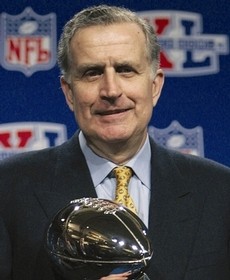 Was retained by the National Hockey League and Paul Tagliabue (NFL/NHL Counsel at Covington & Burling LLP then subsequently NFL Commissioner) and his colleague, Bing Leverich, out of their Washington D.C. office to carry out litigation support work in behalf of the NHL in its case against Ralston Purina, then owners of the St. Louis Blues, who were seeking to move the club to Saskatoon, Saskatchewan.
My work entailed documenting all of the pro sports world's multi-team ownerships from the 1940s through the 1980s to demonstrate that there were plausible owners that had not been considered. The NHL prevailed. Indirectly, the case served to protect the National Hockey League brand and to ensure that the collective interests of the league took precedent over the agenda of an individual owner.
Tagliabue then supported, in his role as NFL Commissioner, my being retained as an expert witness in late 90s/early 2000s IP/licensing/best marketing practices litigation with the Oakland Raiders. The NFL prevailed, a previously infrequent outcome when confronted in the courts by the Raiders.