Art Savage  retained me five months before the National Hockey League granted Bay Area expansion rights to George and Gordon Gund(shown here).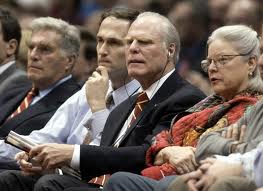 The first CEO of the new club, initially dubbed "Bay Area Hockey '91", Savage asked me to craft the new franchise's overall business plan, organization/ staffing plan, marketing/sales plan (including naming the team and designing its logo family) and week-by-week launch countdown for what became the San Jose Sharks.
Upon completion, he hired me as employee #2 to become the EVP Business Operations, overseeing all revenue streams (tickets, premium seating/suites, sponsorships and merchandise), TV and radio production, community development, advertising/ promotion and media development.
The role also included defining the culture and values of the young entity, ensuring they were synchronized with those of ownership and the marketplace.
We gained an in-depth understanding of the market and its segmentation over a 15-week period with a comprehensive mix of marketing research activity that included 32 focus groups that I moderated, "crowd group" concept testing, executive interviews with corporate and affinity group targets by phone and a global team naming sweepstakes, carrying out $350,000 worth of work for $45,000 out-of-pocket.
Having to launch the franchise twice, once in 1991 at the Cow Palace in Daly City, 40 miles north of San Jose, and two years later in San Jose when the city's new downtown arena was completed, understanding attitudes influenced by geography and distance as well as familiarity with and interest in hockey was paramount.