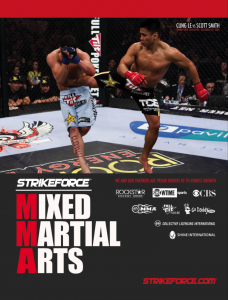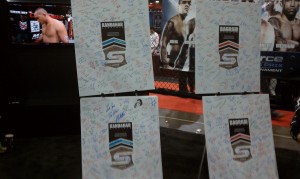 Our client, Strikeforce MMA,  was the second most prominent mixed martial arts event promoter in the world until it was acquired in March 2011 by Ultimate Fighting Championship(UFC). My colleague, Bob Brand, and I had a seat on the Executive Committee that ran the company. I was the interim Chief Marketing Officer.
In Columbus, Ohio at the Arnold Sports Festival leading into Strikeforce's Showtime-telecast event at the Nationwide Arena we made an assertive statement in a 1600 sf trade show space to reach the more than 150,000 Expo attenders whose concern for fitness and embrace of combat sports made them attractive ticket sales and TV-viewing prospects.
Dramatically designed with authentic fighting cage walls, the booth was enriched with Electronic Arts video game ("MMA") consuls, densely programmed with autographing headline fighters, photo ops, web site- destined streaming video and experts teaching the rudiments of MMA,  as well as an opportunity to send "Messages from Home" to our troops in Afghanistan (4 of the 12 placards with 1500 messages above). Also see "Afghan Initiative".
Our extensive trade show planning and implementation experience, coupled with the Strikeforce staff dedication, made this a memorable event.
Arnold Schwarzenegger was clearly engaged, walking through the booth as opposed to by it (ours was one of 700+), posing with our fighters, models and armed service personnel and taking an interview on-camera with Showtime.